Facebook is THE social media site.
That's not new information, they do have over a billion active users every month. They have acquired
companies like Instagram and WhatsApp to position themselves to gain and retain more customers. Actually, when you factor in the active users of Instagram, WhatsApp, and Facebook Messenger, the active users total more than 2 billion people.
That's exactly why your business needs to be on Facebook.
Building a page for your business on Facebook is not that difficult. Once you have built a Facebook fan page, the next step is to get people to "Like" your business. This is where it gets a little tricky.
For the uninitiated, the "Like" button is how Facebook users show support for a business.
The "Like" button is arguably the most important Facebook application. In 2013, Syncapse released a study that said every "Like" was worth $174.
When you are "Liked," it means that the content you share is actively being seen by the people who have "Liked" your page, or simply, your followers. These followers might "Like," comment, or share your message. With every interaction, your content becomes more popular and can be viewed by more people.
When businesses start a page and don't receive followers right away, they can start to worry. The opportunity that Facebook offers is so massive, there is a fear that if no one follows them, then it won't be successful. This worry can lead to panic, and that panic can lead to general apathy toward using Facebook.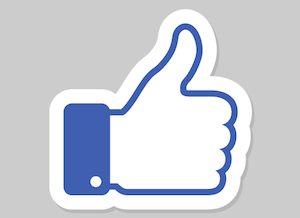 Don't do this. Don't let panic and apathy deter you from connecting with people who might be looking for your business.
Yes, getting "Likes" will take time. But, as Tom Petty and the Heartbreakers sang, "The Waiting is the Hardest Part." Don't let the length of time aggravate you. Remember, every "Like" is potentially more than $100 in revenue. "Good things come to those who wait."
Now that we know why it's important to get "Likes," how do we get people to click on the "Like" button?
First, let people know you're there. On every piece of advertising you produce, put "Find us on Facebook" on it. If you can include the "Like" icon, you should include it. Also, add the URL of your Facebook page (http://facebook.com/____) on your advertising. People can't "Like" your page if they don't know where to look.
Second, don't be afraid to ask for help from your Facebook friends. Let your friends and family on Facebook know about your page. When you create a page, Facebook will even ask you if want to reach out to them. Another option is to send out a quick email with the URL of the page and ask people to "Like" it. These are the folks who want to see you and your business succeed, of course they will help you out.
Third, advertise your page on Facebook. Facebook allows you the opportunity to promote your page through their platform. Like any advertisement, it's an investment, but don't forget that every "Like" has the possibility of bringing in customers. If you run into trouble, we are absolutely ready and willing to help you with this.
Once you've been able to gain followers, now you need to start posting content. You need to share content that has value to your customers, otherwise consumers may not want to follow you anymore.
We'll talk about content in another post, but I just want to share some quick tips about what type of content you should be creating, in case you want to get started building your social media presence today.
Share content that is relevant.
Share content that connects and engages with your fans.
Share content that serves a need to your fans.
Share content often, but not too often.
Share content that is positive.
Share content with photos.
Nick Pizzolato is the Marketing Content Manager at Wicked Local Media Solutions. For questions, topics for future blogs, or to share your favorite moment from the film "Back to the Future," email him at npizzolato@wickedlocal.com.